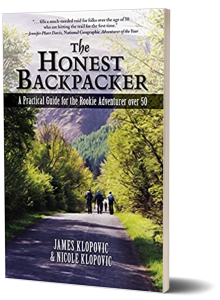 Always have one foot in nature.
Stop dreaming and scheming and hit the trail.
You'll return invigorated for the next adventure!
That said, preparing for a trip into the great outdoors can seem like a daunting task if you're a first-time adventurer, no matter what your years. Fortunately, you don't have to go it alone.
In The Honest Backpacker, Jim and Nicole Klopovic share a step-by-step preparation plan tailored to the novice adventurer.

They provide essential advice and trail-proven tips on a wide variety of topics, including:
Preparation – Getting your body, mind, and disposition in shape for your trip. It's about thriving for a lifetime.
Planning – Planning your hike (what, where, when, and especially how)
The essentials of gear – Deciding what gear you'll need and how to select it. Go light weight or go home!
Healthy nutrition – Creating healthy menus and purchasing food for the trail. Nothing like peanut butter and marshmallow fluff on a bagel.
The art of packing – Determining what to pack and how to pack it. You can keep it around 25 pounds.
Safety issues – Knowing trail safety and etiquette. A sprained wrist or ankle ends many hikes, sometimes forever.
And much, much more . . .
You'll learn everything you need to know to have a safe, enjoyable, and memorable outdoor experience . . . and to want to do it again. Plus, to inspire and motivate you, Jim shares stories of the spectacular sights and fascinating people he met while trekking across northern England on the England Coast-to-Coast Walk.
Much more than just another "how-to" guide, The Honest Backpacker is your invitation to venture out into the wilderness, immerse yourself in the breathtaking beauty of nature, and "wash your spirit clean."