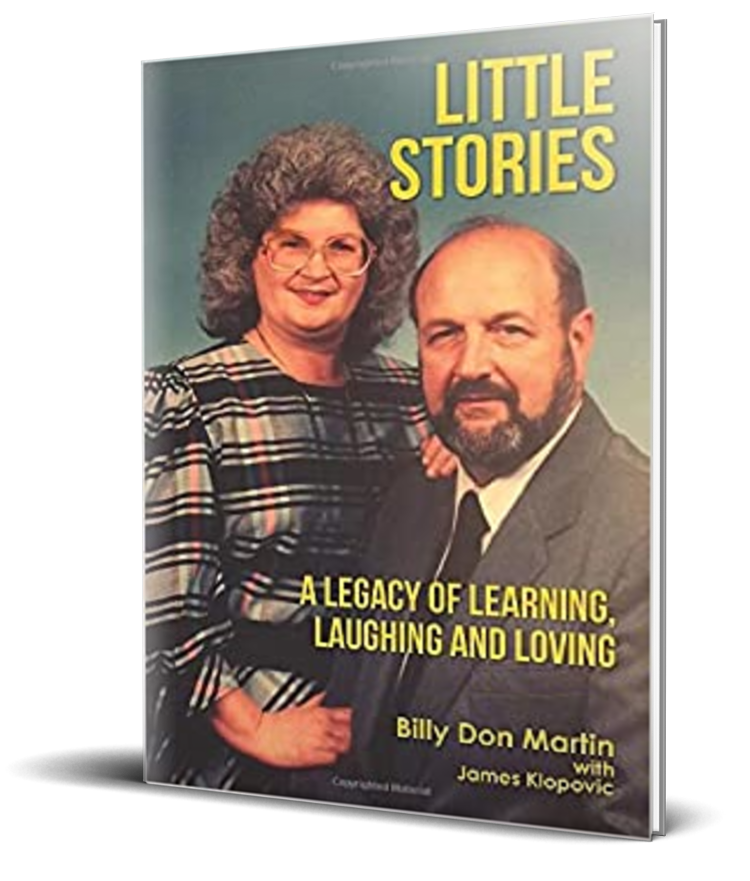 Little Stories: A Legacy of Learning, Laughing and Loving
From author Billy Don Martin: Writing this book has been a reconnection, a humbling experience and a joy. Each story allowed me to relive my life and be with you, the people who make my life so rewarding. Remembering, retelling and relating each little story has allowed me to realize, despite it all, how lucky I am. And from the first story to the last I could not stop laughing, sometimes crying, but throughout smiling. How does one thank everyone who made this retrospective happen? It is impossible. In so many ways this memoir belongs and is due to all of you who lived it with me.

A Note from the Publisher:
Why is Little Stories on the Affinitas Publishing site?
Because you will be better off for having read it!
Billy Don Martin ("Marty") was my friend—the one true friend of a lifetime, that the Ancients would wish for us. Little Stories is an extraordinary memoir of a truly remarkable man. He was "with" me for over a half-century, including my years of writing Becoming a New Wave Leader. I dedicated the book to him because he epitomized the New Wave Leader.
Marty wasn't the CEO of a big company, but he may have played just as important a part in changing the world for the better. Just imagine: An eighth grade, ol'-timey shop teacher became the Distinguished Teacher of the Year for the entire state of Texas! Parents by the hundreds would entreat the school to allow their children to be in his class—because it was life changing.
Marty was a true renaissance man. He taught himself to play guitar, could sing like an angel, and smoked deer sausage that was the envy of meat markets. He won a contract to do professional photos for school teams and didn't even have a camera! He was a quick study.
Marty was the classic old fangled storyteller. I entreated him, begged him, to document these stories. We made a good dictating, editing, production team. His remarkable life took shape in scores of stories, from his boyhood farming to the Air Force, where we first met at basic training. From his 30 years of teaching to students, friends, and his beloved church. He never did anything halfway and always laughed heartily, bringing peals of laughter even through tears and the heartbreaks of life.
Marty left us spring of 2020, and it's my deep desire to help keep his legacy alive. He demonstrated how an "ordinary" person can become truly extraordinary even after his passing. Through his Little Stories, Marty will continue to inspire others. Besides that, the book is a fun read; you'll laugh a lot. I still do, even though I've heard some of the tales a hundred times! I will continue to make his book available as long as people want to read his unique and heartwarming stories.
Help Marty's legacy live by reading Little Stories. Then tell a friend to get the book. Tell ten.
James Klopovic