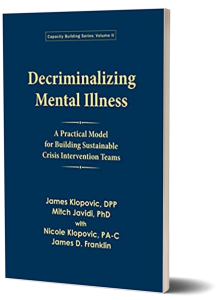 Every community struggles with keeping some of its members out of jail and productive. Decriminalizing Mental Illness (DMI) builds a permanent answer to an ongoing community problem—economically and effectively.
One of our most vulnerable populations consists of our mental health consumers. If we know how, this is one of the easiest groups to keep out of the highly expensive criminal justice system. Decriminalizing Mental Illness outlines an overall municipal reentry strategy to accomplish this. As important, the book links local project development to New Wave Leadership. This template for decriminalizing mental illness via Crisis Intervention Teams is a practical expression of how New Wave leaders encourage collaboration among public agencies.

This book is a distillation of many programs that work! It's probably like no other you have read on how to move the local public sector to focused, productive action as it covers the following aspects:
The program life cycle – You'll find practical step-by-step activities that follow the three-phased life cycle of planning, implementation, and operation to stabilize and sustain your idea for your community, your way.
Bottom-up approach – Government in the U.S. is largely top-down and agency directed. New Wave governance uses a bottom-up and back strategy. Answers to program effectiveness begin at the street level with those confronting the problem.
Focus on capacity building, not administration – New Wave leaders understand how to build permanent support for service ideas.
Change in mindsets – New Wave leaders move the needle from fixed mindsets of separate services to growth mindsets of collaboration.
Advancement from theory to practice – DMI is all about how to get things done based on good theory and proven processes.
Reduction of risk and liability – This aspect is vital. Public service is fraught with risk and liability. This book helps reduce both.
While Decriminalizing Mental Illness provides a complete process with action-oriented checklists, your colleagues, neighbors, and communities are unique. Thus, your path will be unique. We invite, indeed encourage, you to customize the process to fit your situation.